OK time for a vanity-type post. By that I mean, a post about my HAIR. Yeah, my hair. I have gone
BLOOOONDE
!!! OK, not totally blonde.... more like 20% blonde, heheheh...
(yes I am aware that my freckles are on full-on display lately, oi... I did get some sun inadvertantly while out on the road so they popped out all over. Lobo says he thinks freckles are hot though, so, woo hoo!)
Now some of you might think this hair-color choice has something to do with my
Wolverine + Rogue = TLA
fetish.... (yeah yeah, I have that fetish, and guess who plays Wolverine to my Rogue?? One guess... bwaa haa) Actually, I have wanted two almost-white streaks in my hair since 7th grade, when I knew this girl who had a naturally all-white streak at her temple as the result of having been in a terrifying car accident as a kid. She hated, it but I thought it was the damned coolest looking thing eva...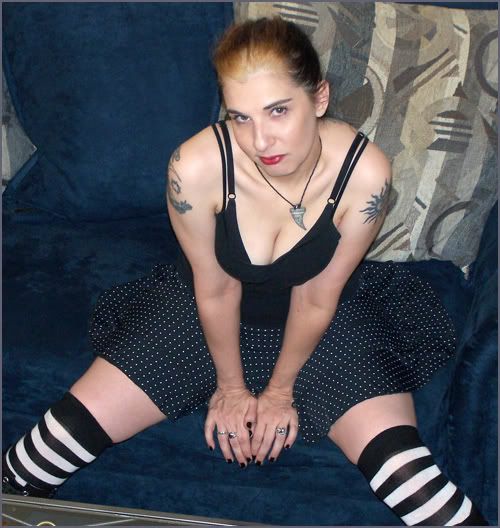 So after many many (pre-XMen movie) years of coveting the streaks, Lobo finally offered to help me do it. I will admit I adore Rogue's hair and seeing the movies only fueled my streaklust, heh. And so these pics were taken after the Great Shady Hair Bleach Extravaganza, Part 1....
We have bleached it again since then, and the streakys are wayyyyy lighter now. This was after Round One and they were still a weird mix of reddish-blondish-yellowish-brown at that stage. But... bleaching out jet-black hair is a beeeotch you guys! I had no idea.
Here I am being all saucy for Lobo's viewing entertainment (he was shooting the pics)
"Hey Big Boy, ya want some fries with that shake??" *eyebrow wiggle*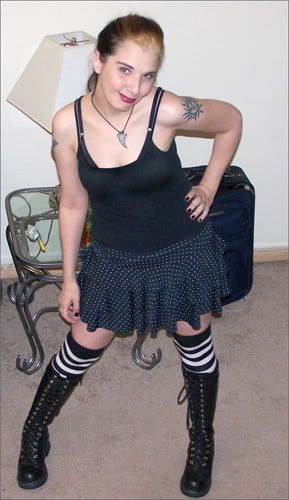 Hahaaa, what a dork.
I must say, I loveloveloooove my new streaks. Really love 'em (and trust me- I never 'love' the way my hair looks, I get sooo bored with it!!) They look really cool pinned back (as above)... I get this nice polecat-streak down the center of my melon and/or ponytail. And when my hair is loose, I get the two streaks- one to each side- framing my face. And for some reason it makes my eyes look super-green (as opposed to, ummm, regular green)
Because bleaching is a torturous process on the hair we still have at least one, maaaaybe two more bleach sessions to go to get it to that white-blond color that I desire. We've been giving the hair a few weeks in between bleaching to recover, so it doesn't get fried, so it's a slow process. But right now my streaks are tons lighter than what you see in these pics, in fact from the roots to about a third of the way down I already have that pale blonde tone I wanted, woot.
I will have to take some more pics to show you guys after the next bleach party. As if you really wanna see pics of my hair, hahhaaaa. Sorry- it's just been about 10, 15 years since I have had anything other than waist-length straight black hair so I am all aflutter with the excitement... *flutters*
It still remains to be seen whether I have about 20% more fun. I will let you guys know :P
...and now, a totally random icon:


Current Mood:

ditzy

Current Music:

Blondie- Heart Of Glass